Bell tent hire for weddings and guest accommodation
booking bell tents for your wedding
We've simplified our processes over the last 7 years, so that hiring bell tents for your wedding is simple and stress free.
We can accommodate over 250 guests to create your own bell tent village and have 2 styles of 'wedding bell tent' to suit every style. 
In addition to this we are also able to offer the following services to assist with your event:
Reception tents

Check in and bag carry service

Kids cinema (coming soon)

So it's as simple as the steps below…
For 2022 1 | You pay a small deposit to reserve the number of bell tents you would like for your wedding glamping village.
2 | We build you a dedicated guest booking page – just for your event, within the 'client area' of our website.
3 | You send your invitations and include your unique URL and password for your personalised page.  Guests login to book their bell tent 'room' for your wedding. 
4 | When all the reserved tents have been booked by your guests, we return the deposit you initially paid.
* As standard our minimum tent hire is 10*
online booking for guests
Our personalised booking area is fully responsive on computer, tablet and mobile. 
Your guests log in, make their tent choice, add their bedding selection and that's it. Done.
We'll confirm their booking and send an invoice for their 25% deposit. 
Final invoices are due for payment 28 days before the date.
All tents are personalised with our wooden, or blackboard signage, and we'll issue guests their tent name a few days before the wedding so they know which room is theirs for the weekend. 
We provide our luxury mobile bell tent hire for weddings in Hampshire, Dorset, Wiltshire, Berkshire, Oxford, Surrey, and East and West Sussex. 
 We also cover the rest of the UK with our bell tent villages for weddings, but minimum order numbers may be higher. 
Head over to our media page to see some of the weddings we've worked on that have been featured on national wedding blogs.
wedding bell tent hire packages
We have 2 styles of wedding bell tent so you can book something that fits your own personal style. Both come with real beds and mattresses. 
For any of our wedding bell tents, if you would prefer not to have animal skins included – please just ask.
The Wedding Bell – lots of white, pale blue and greys. Classic in its design, but no less lovely for it.  
The Boho bell – for those with a bit more of a boho streak. This wedding bell comes fully draped in Indian silk Sarees. It's cosy and encompassing.
guest accommodation
4m - £195
5m - £225
Guests check in to their 'bell tent hotel room' for the weekend.
Tents are available in either 4 or 5m so there's an option for couples, and also groups.
All of our guest accommodation bell tents come with camp beds that are roughly the same height as a standard bed.
And they all come with memory foam toppers too.
Airbeds you ask? 
Not on our watch.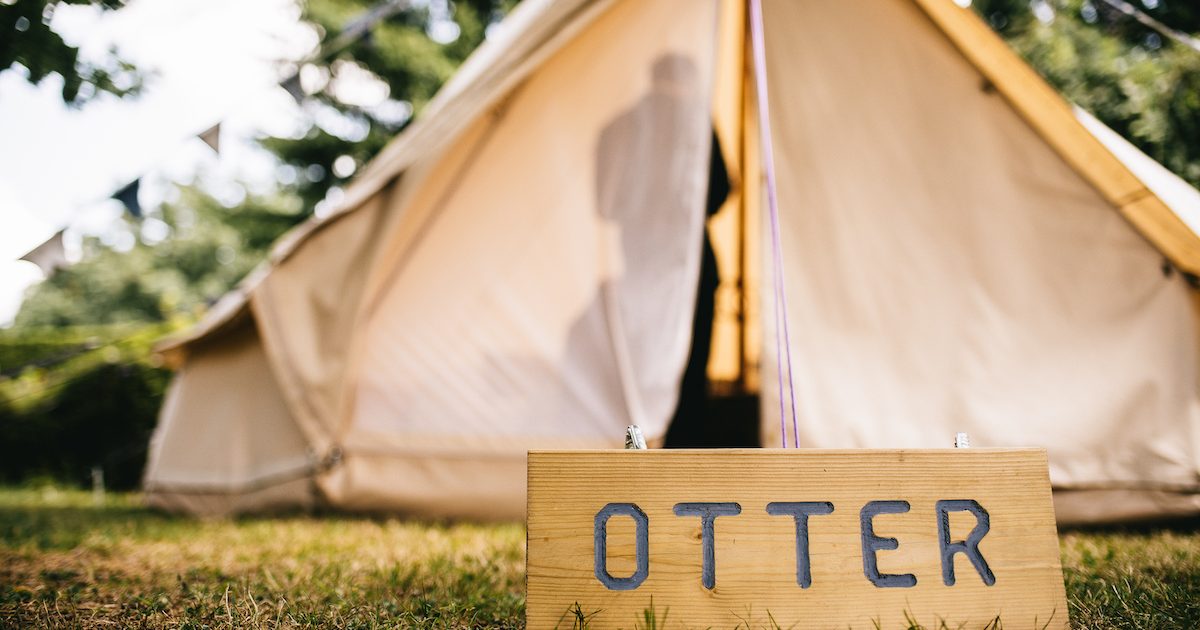 Beautiful bells made our wedding weekend ♡ tents were gorgeous and cosy, had everything we could have wished for and more. It was truely the best wedding tent…A log burning stove, luxury hamper full of goodies, sheep skin rugs, supersoft bedding…you get the picture. Katrina throughout was an absolute gem, fantastic communication leading to the big weekend and helping out wherever she possibly could. The guests absolutely loved every second and fully rated the whole experience. We are so grateful for all your hard work and I will absolutely rave about your company to all I know : ) we hope to see you again for our 1 year anniversary!! Same place same time ; ) Love Genevieve and Steve xxx
What an amazing company!! Completely in love with what they do and how professional and friendly they are. Katrina could not do enough for us and made our honeymoon tent absolutely beautiful for us! Would recommend to anyone and everyone! We have some amazing photos and will share when we can!
Beautiful Bells provided an excellent service for our wedding from start to finish, with particularly impressive attention to detail. They worked around the fact that I was vegan, providing beautiful alternatives to sheepskin rugs etc. and really making each tent special. The service is also nicely flexible so that guests who wanted to pay for bedding could do so, whilst those who wanted to bring their own sleeping bag could and the provided whatever combinations of single and double beds we requested. They created a bridal tent which was absolutely stunning! I've actually emailed them to ask where the bedding was from as it was like sleeping on a cloud. Thank you to Beautiful Bells for making our day extra special. So many of our guests have commented on what a great night's sleep they had (despite the party raging on until the early hours!) We couldn't have asked for a better service.
I hired the 'honeymoon bell' for my daughter and her husband following their wedding on 19 July. It was truly beautiful and they loved it. It was expertly pitched by Katrina outside the barn at Barford Park Farm in Downton where the reception was held, within wonderful surroundings and it looked amazing. The tent was admired by all the guests. It was so much part of the wedding as everyone was able to be outside all evening because of the wonderful weather. Highly recommend Katrina – she is friendly, efficient and really seems to enjoy making people happy. I want a holiday in one of your tents!
Thank you to Katrina, Georgina & the team for providing the beautiful glamping tents for our WeddingFest! The bridal bell was beautiful and the kids were chuffed to bits with their big chill out tent. Everyone had a really wonderful weekend and the bell tents helped make it really special.
We used beautiful bells for our wedding day. We hired a tent for some close friends to stay in and 'the snug' for our wedding night! Katrina was such a pleasure to deal with and the booking experience was seamless! We were able to see the tents up at an open day and they just looked fantastic we booked right away! We only used the tents for the one night but this was not a problem! The tents were amazing and really made our festival feel wedding perfect 🙂 thank you!! X
We hired Beautiful Bells for our wedding back in July and they were absolutely superb. Katrina was great during the preparation process and they even helped troubleshoot and solve a few problems when they arrived for set-up and things were not quite as expected. Everything was brilliant and our guests loved their bell tents. Thanks to all the Beautiful Bells team!
Beautiful Bells provided accommodation for our wedding last weekend and did an incredible job. The team were so friendly and always quick to reply. They even came back to site last minute to put up an extra tent for someone who'd forgotten to book one! The tents were beautifully presented, especially the bridal bell. Many many thanks!
If I could give more than 5 stars, I would. Katrina and the team set up 16 tents for our wedding and they did it with such ease. They were faultless to work with from start to finish - always extremely responsive on email and phone with ourselves and our guests, right down to the execution of getting the tents up and looking stunning. They were amazing. Our guests were blown away. Cannot speak highly enough of them. Enjoy your well-earned holiday to India, Katrina! Love from Kate and I xx
Wonderful service, from beginning to end. Beautiful bells they certainly are, both inside and out! My Husband and I were so comfortable in the wedding bell, and all our guests raved about theirs. Attention to detail is at a really high standard and the team behind them are excellent. I would recommend them to anyone! It was so lovely to have them feature at our wedding, it just made the scene all the more magical alongside our teepee. Huge thanks from us both!!