CHILL OUT BELL TENTS
for weddings, parties & all events
When you're looking for extra space at your wedding reception, garden party or want a communal space for your hen weekend – our chill out bell tents offer the perfect solution. 
With chill out bells available to hire in 4, 5 and 7m, you can choose your size to fit your party.
The large 7m chill out bell bell tents can seat up to 30 guests under one canvas roof. 
All of our chill out bells come with full coir carpet and are fully furnished with rugs, a selection of floor cushions, pouffes and bean bags, occasional tables and a basket of blankets.
We complete the dressing with bespoke bunting, fairy lights, LED lanterns and an LED tea-light chandelier.
We provide our luxury mobile bell tent hire services in Hampshire, Dorset, Wiltshire, Berkshire, Oxford, Surrey, and East and West Sussex. 
We also cover the rest of the UK with our bell tent glamping for weddings and events but minimum hire orders may be higher.
Delivery is contactless and we require side or rear access if setting up in your back garden.  
chill out bell tent pricing
Based on 2 nights hire
4m chill out bell – £250
5m chill out bell – £295
7m chill out bell – contact us for pricing
Subject to availability:
5m heated chill out bell – contact us for pricing (with fully functioning log burner) October to April only. 
5m draped chill out bell tent – lined with our Indian Silk Sarees – contact us for pricing 
We are also able to offer heated chill out bell tents during the Autumn and Winter, with a fully functional log burner fitted to a 5m bell tent. 
Meaning you can keep your guests cosy – and in style. 
New from 2020 is our draped chill out bell. Our bespoke Saree drapes are a beautiful addition and add a real boho vibe. Contact us for details. 
You can speak to us about hiring the right chill out bell tent for your wedding, event or hen party on 07747037656.
Or if it's easier, send us an email with your enquiry. 
HOW MANY PEOPLE TO A TENT?
4m bell tent – approx 6 people 
5m bell tent – approx 10-12 people
7m bell tent – approx 30 people 
HOW MUCH ROOM DO WE NEED?
Bell tents secure with 2 sets of pegs, one set at the edge of the ground sheet and the other to hold the guy lines.
In order to erect your chill out bell tent properly we need at least 1.5m above the tent size.
If you are limited on space we can run guy lines into flower beds to anchor them.
Tents cannot be set up under trees or overhanging branches, this is due to the damage tree sap and dirt can do to the canvas, and also your safety, if a branch were to break off and hit the tent whilst you were inside.
We have a range of festival flags and outdoor bunting for hire to really add that festival vibe to your garden party, hen weekend or birthday celebration. 
Please contact us for a bespoke quote.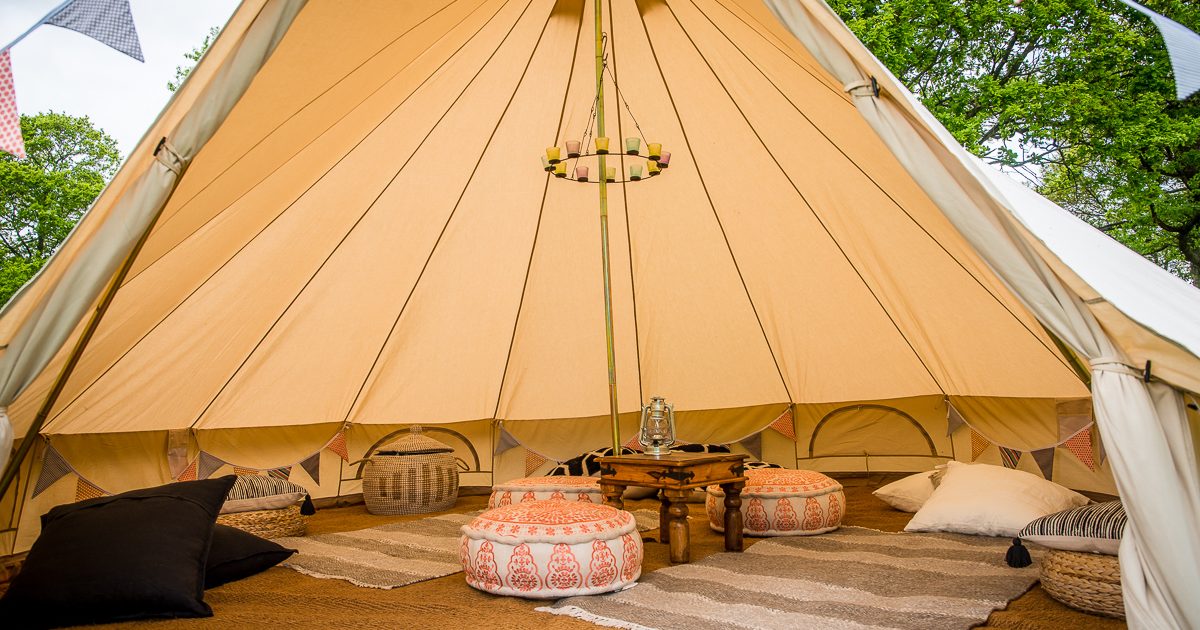 Absolutely amazing! Beautiful Bells is simply the best when it comes to customer service. Katrina is so lovely and helped me with organising all the way through. I hired a chill out tent for my friend's hen party and everyone was blown away by the beautiful decor. Thank you so much Katrina for giving us a fabulous evening. Next up, family glamping!
Thank you so much Katrina and co. at Beautiful Bells. You helped make our wedding day super special. Everyone loved the 'chill out' tent. We just want our own one to keep now! Mark and Carla x
Thank you to Katrina, Georgina & the team for providing the beautiful glamping tents for our WeddingFest! The bridal bell was beautiful and the kids were chuffed to bits with their big chill out tent. Everyone had a really wonderful weekend and the bell tents helped make it really special.
Katrina and her team are absolutely fantastic. We hired 4 5m bell tents and a 7m chill out tent for my sister's hen party last weekend. Right from the beginning Katrina was really helpful and gave all the information we needed. All invoicing and payment info was really clear and easy to sort. The tents were so beautifully decorated and everything was just perfect. Thank you so much to Beautiful Bells for your part in what my sister described as the best weekend of her life!
Deborah
The service received from Katrina from start to finish was amazing. The tent looked fab and my daughter and her guests had an amazing time celebrating her 21st Eurovision party. Thank you