beautiful bells in the media
Looking for some inspiration? Or just want to take a peek at the outdoor weddings we've worked on before?
Just click on the below links to take you through to some amazing 'real life' wedding blogs we've been featured in! 
Whimsical Wonderland Weddings
Jon and Rachael's rustic barn wedding at Bartholomew Barn was a mix of DIY decorations, cottage garden flowers, wellies and love.
With Rachael making all the bunting herself! 
We provided a 7m chill out bell tent, fully dressed, for guests to use in the daytime and the evening as overspill space. 
We're in love with Rachael's dress!
Abi and Greg had their Glastonbury inspired wedding at Rye Island  Henfield, West Sussex.
Their original venue had fallen through but they were lucky enough to secure this spot which was close to home and even has a zip wire!!
With big Kata tipis, tables named after the Glastonbury stages, some beautiful DIY elements and a Spotify playlist – they finished off their day with a glitter bar and a party in a barn! 
Alex and Natalie married at The Secret Barn in Steyning, West Sussex. They had their wedding in the orchard amongst the trees, with one of their friends conducting the ceremony.
Petal and Feast provided British picnic canapés , a BBQ, ice cream and a cheese wheel cake.
We are totally in loved with the relaxed boho vibe and Natalies gorgeous flower crown (also by Petal and Feast). 
A 16 tent bell tent village accommodated all of the guests, with Natalie and Alex glamping in one of our wedding bell tents. 
Harriet and Stuart married at Patricks Barn, West Sussex. 
For us it was the first of many trips to the barn to set up for weddings, and it would be fair to say we had a bit of jigging to do on the day to fit all the tents in. (We managed!)
We love that Harriet and Stuart used the Byre for their sit down meal and that their personal touches were subtle there throughout – every wedding should have some sort of rabbit theme! 
The food was from the fabulous Becky, AKA The Garden Chef. After a day and night of partying Harriet and Stuart, and all their guests made the short walk to the field where their bell tent village, complete with 7m chill out bell for the after party, was set up. 
Whimsical Wonderland Weddings
When we're asked to set up at Bignor Park, West Sussex, we know we're going to have a wonderful time as the grounds and views are simply stunning! 
Robyn was the most relaxed bride we have ever worked with, trusting her suppliers to just get on and do what they do! 
We tucked Robyn and Tom's wedding bell away in The Glade (real name the Azalea gardens). It has the most beautiful walkway, through bushes and trees alive with the noise of bees and wildlife, and fragrant flowers.
It's an absolute must for a wedding tent bell location at Bignor and we've now managed to get Louise, their events manger calling it the Glade too!
Paula and Jon's wedding at Fiesta Fields  was set at Roberts Field. Their field hire service really does give couples a blank canvas to build their bespoke and dreamed of day. 
The long grass added to the relaxed vibe and they positioned their vintage pole tent so guests could look out at the picturesque views.
Paula and Jon were keen for their day to be as child friendly as possible as they have 2 small children themselves. 
As well as accommodation for Paula and Jon for the night we set up a children's play tent to keep the smaller guests occupied.
Another Oxford road trip for the Bells team! 
Alice and Andy utilised the space at Alice's parents home for their wedding reception. 
They really thought of everything – even hiring wood fired hot tubs and deckchairs for their guests to enjoy the morning after! 
A big fire pit with hay bales finished off the bell tent village. 
They hired a Sperry tent from Paapkata, and it was dressed with lots of greenery and flowers and candles hung in jam jars.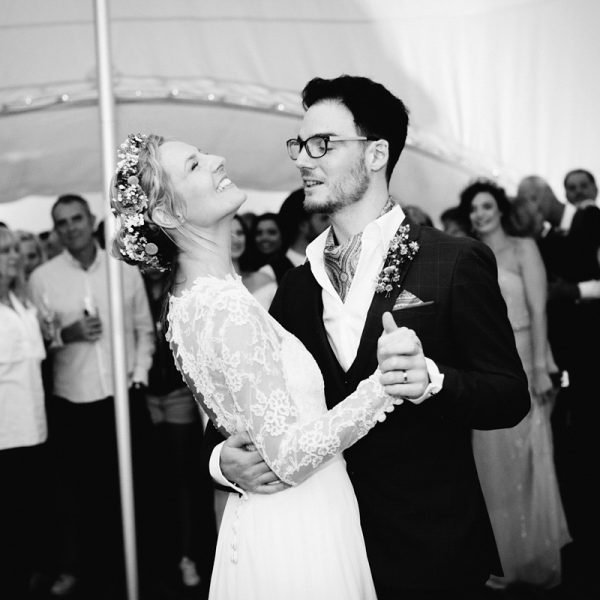 We were privileged when George and Amy asked us to provide accommodation their wedding. They had attended Natalie and Alex's wedding the year before (see previous blog) and had stayed in our tents! 
The Anglesey Arms is short drive for us. George is the publican so they made use of the pubs grounds for their celebration.
Needless to say the whole team were excited at the prospect of a cold beer when we finished setting up! 
We watched a willow archway being built between 2 trees in the pub garden, and the whole feel was one of a relaxed, boho, and very cool wedding! 
When your friends (who both work in the wedding industry) ask you to provide bell tent accommodation for their wedding, well you know it's going to be one hell of a party! 
Ash of Tents N' Events, and Eloise of The Beautiful Day chose House On The Brooks to celebrate their day, complete with a huge vintage pole tent (what else!) and Eloise set to work doing what she does best, and styling absolutely EVERYTHING!
Plenty of outdoor games kept and guests entertained and we ate the best hog roast we've ever tasted!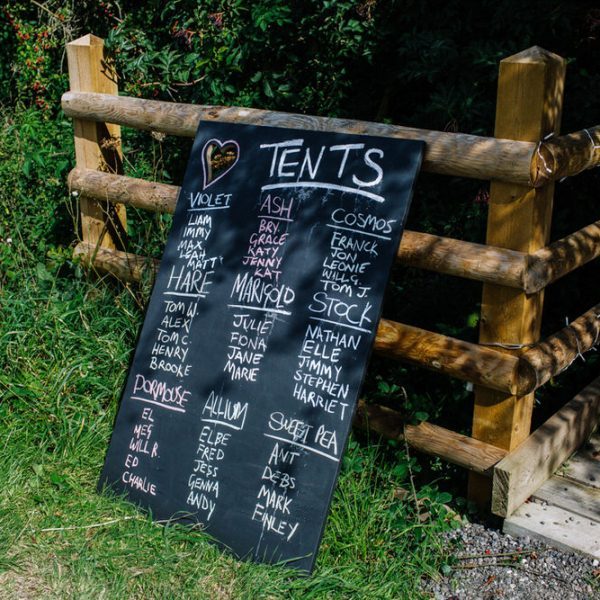 Whimsical Wonderland Weddings
We say the sun always shines at the Barn and it definitely did for Dara and Jamie's Secret Barn wedding! 
They camped out, with lots of guests, after a night partying. They held their own cake competition which meant guests could get involved, with Bake Off style rivalry – and it kept guests well fed too! 
It's just a short walk home for Secret Barn weddings. The glamping field is just across a small wooden bride, next to the Orchard, where Dara and Jamie chose to have their wedding ceremony. 
We love that Dara rocked such a beautiful dress – complete with Converse!
Kirsty and Jon held their wedding at Hidden Valley, one of our favourite Fiesta Fields venues.
The perfect location for a Glastonbury inspired wedding! 
We provided bell tent accommodation for guests and also the couple themselves – with lots of family members staying on site too to complete their weekend! 
We can still remember how hot it was that weekend! 
Whimsical Wonderland Weddings
We packed up ALL of the vans and headed to Oxford to set up a huge bell tent village to accommodate William and Sarah's guests for the weekend. We even saw a calf being born as we stopped for a break on the way there! 
The wedding was set it William's parents garden, which when we say garden doesn't convey the size – and how much work had gone in to getting the ground prepped and ready. 
Whilst all the guests glamped in a big circular village, we tucked Sarah and William's tent away in a  gladed area for some privacy.
Margot's Wedding | Organised by Fiesta Fields
When a whole bunch of suppliers come together on a sunny day, in the heart of West Sussex with an epic photographer then you know you're going to end up with a whole host of cool ideas.
For this shoot we wanted to provide some inspiration for a wedding weekender; starting on Friday evening with an outdoor cinema night with popcorn and hot dogs.
A Saturday morning scavenger hunt, informal sharing platters, an evening ceremony, pizzas and desserts and a survivors breakfast on Sunday morning.
The 7m boho chill out bell tent was put to good use over the course of the day, and into the evening.
Venus awards and Muddy Stilettos
We were nominated for the Portsmouth business awards at the end of 2015 for the categories of New Business and Customer Service.
Not only did we make it to the finals in both categories but we won the award for New Business in May 2016.
For us it was a huge achievement.​
Then in 2017 we won (by public vote) best glamping provider in Hampshire!
We now like to say we offer 'award winning' bell tent hire!