Looking for some inspiration? Or just want to take a peek at the weddings we've worked on before? Just click on the below links to take you through to some amazing 'real life' wedding blogs we've been featured in! 
Rachel and Jon's rustic country barn wedding at Bartholomew Barn has been featured on Whimsical Wonderland Weddings. If you click the badge you can read all abut their day! We provided a 7m chill out bell for some extra space for guests during the day and evening.
Rock My Wedding featured Alex and Natalie's relaxed Secret Barn Wedding and you can read all about their day here. Having spent so long talking talking to Alex it was lovely to see what things looked like on the day. We were so happy to be asked by Alex and Natalie's friends to provide a bell tent village for their wedding last summer.
Harriet and Stuarts relaxed and bohemian summer party in the country has been featured on Festival Brides Real Weddings Blog. The wedding had a bunny theme which was personal to them, and a large glamping village and 7m chill out tent so they could keep the party going! Set at the Stunning Patricks Barn, click the badge to read more!
William and Sarah married at his family home in Oxford in August 2016 - their Classic English Countryside Wedding has been featured on Whimsical Wonderland Weddings. We set up a huge village for all their guests to enjoy and hid Sarah and Will's tent away in a small glade. The photographs taken by the mazing Jen Marino are some of the most amazing sky shots i've ever seenQ Click the badge to read more.
Robyn and Tom married in August 2016. Their blog has been featured on Love my Dress. Click the badge to read about their wedding at the glorious Bignor Park. complete with Vintage Pole tent, stunning floristry and lots of colourful festival flags!
Paula and Jon celebrated with a real family festival at one of the Fiesta Fields sites in Surrey. We provided a children's dressing up tent to keep smaller guests entertained and also somewhere a bit more glam for them to spend their weekend! Click the badge to read more about their day!
Alice and Andy's wedding back in 2015 saw our first trip to Oxfordshire to set up a bell tent village - completed with hot tubs and deck chairs and campfire! Click the badge to read more about their garden wedding including the stunning Sperry tent.
George and Amy had their reception in the gardens of the Anglesea Arms in West Sussex. The whole garden had been transformed for the day including a handcrafted willow arch (we watched in being made as we set up the tents!) click the badge to read more about their day.
When you're friends (who both work in the wedding industry!) announce they're getting married then you know it's going to be one hell of a wedding!
Dara and Jamie had their bright and colourful wedding at the Secret Barn in Steyning.
Hidden valley is one of our favourite Fiesta Fields locations - read all about Kirsty and Jon's festival themed day.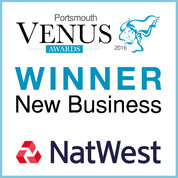 We won!
We were nominated for the Portsmouth business awards at the end of 2015 for the categories of New Business and Customer Service. Not only did we make it to the finals in both categories but we won the award for New Business in May 2016. For us it was a huge achievement.
Read about Paula and Jon's chilled out, family friendly day at another of the Fiesta Fields sites - Roberts field.
Elle and Nick married at the beautiful Tournerbury Woods, Hayling Island in Spring 2016 and you can see their day in photos by Hana Venn here. 
Tournerbury is set in the woods with a huge marque for the reception and they hired The Snug as their wedding accommodation – complete with full functional log burner to keep them warm and cosy overnight, as well as some guest accommodation bells for the other campers. The weather held out! It was a great wedding to start Spring 2016 off with! 
Xanthe's DIY summer wedding took place at Grittenham Barns in summer 2016. Read her blog on the day here